Ever since the start of the pandemic last year, our company has been continuously adapting ways to ensure our safety and wellness. Our in-office operations were quite limited during the first few months after the enhanced community quarantine (ECQ), as the company allowed work batching and work-from-home arrangements for employees' protection. 
As we now go back to our daily grind in the office, our company has taken additional measures to provide a safe and healthy office environment. 
Let's take a look at our company's efforts in doing so besides regularly disinfecting the common areas and highly-touched surfaces several times a day:
Rapid test and swab test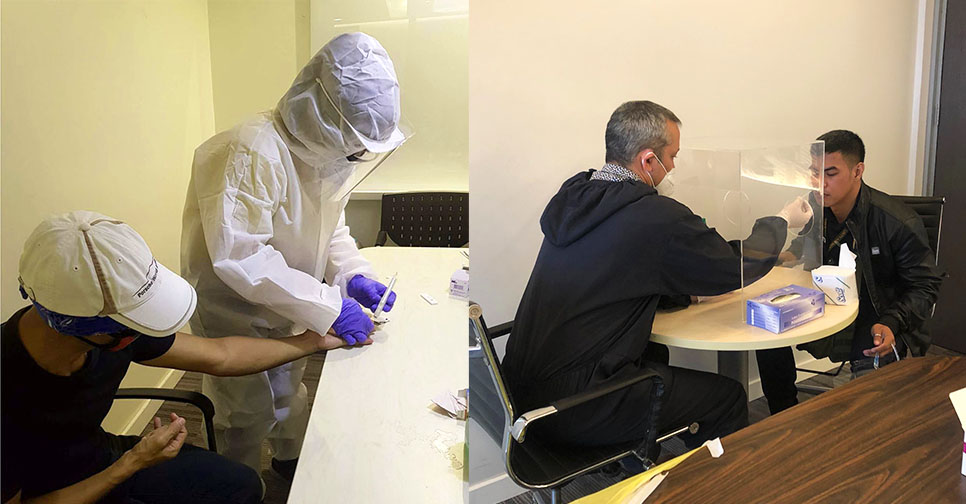 Anchor Land has provided us with free rapid antibody test to screen everyone before going back to the office at the end of May 2020. This test uses blood sample extracted from the person to detect fragments specific to the coronavirus. 
Our company also shouldered our reverse transcription-polymerase chain reaction (RT-PCR) or swab test, the gold standard in COVID-19 testing, wherein a nasal swab specimen is collected to detect the active virus in the body. Results may take two to three days to come out, but the accuracy is almost at 100% (if performed correctly).
UV filter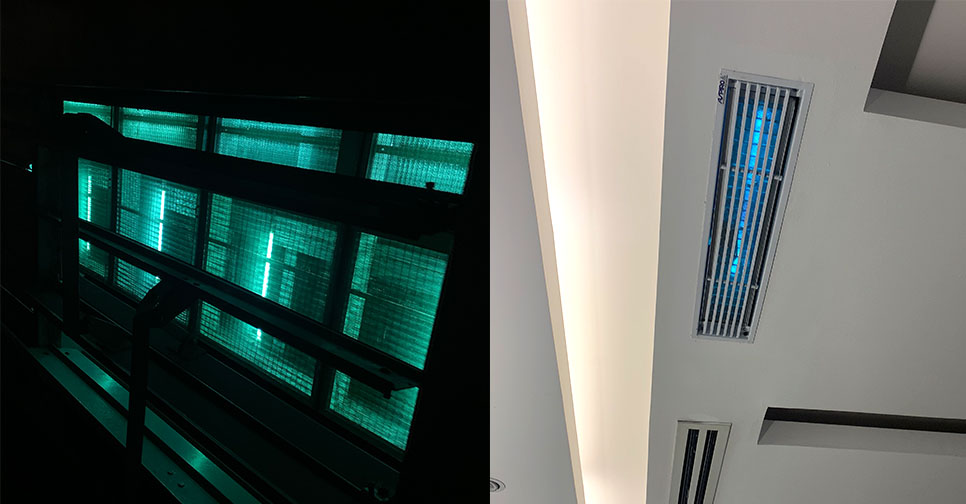 Air purification is essential now, more than ever, as the deadly virus might spread via airborne transmission. Thanks to our company, we now have UV filters to improve the ventilation flow in the office, for a more purified and sterilized air. The ultraviolet light effectively kills biological contaminants on the air, including spores, bacteria and viruses.
Professional disinfection using mist machine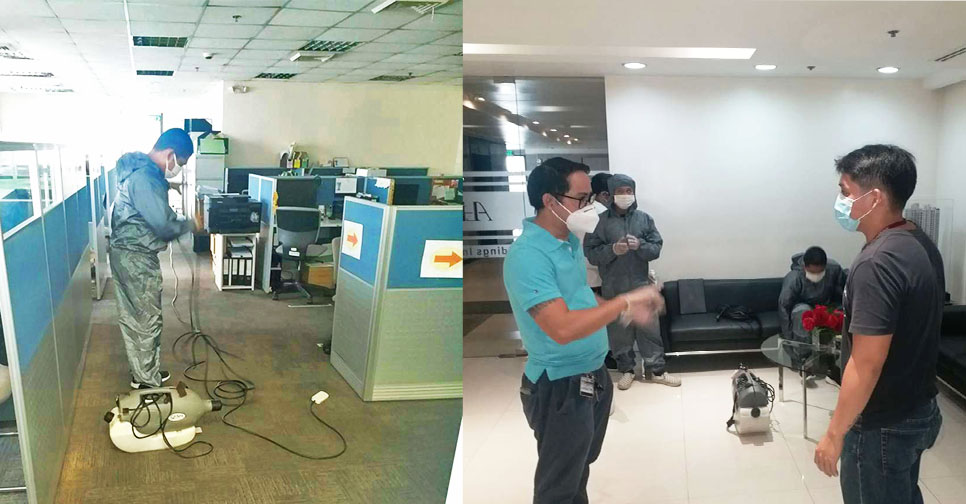 Our company has employed the services of a service provider to sanitize the whole office, using a disinfecting mist machine. The chemical used is Microgen, the world's most preferred "green disinfectant", which contains D-125, killing more than 148 types of different viruses and bacteria, including the coronavirus. Big thanks to our Admin guys – Sir Austin, Sir Alex, and Kuya Rodel for taking charge.
Alcohol dispensers, hand soaps and sanitation door mats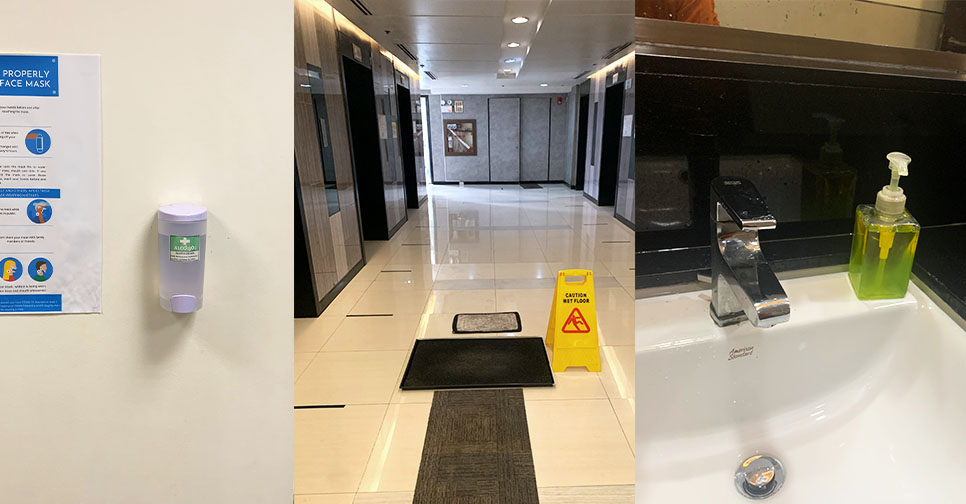 The Centers for Disease Control and Prevention (CDC) reiterates the importance of proper hand washing and sanitizing with rubbing alcohol to limit the chances of getting the deadly virus, especially after we touch objects. Hand soaps in the restrooms and pantries and alcohol dispensers in the hallways are provided, for everyone's use. In addition, sanitation door mats are provided at every door entrance, so we can disinfect the bottom of our shoes, before entering the office premises.
Health declaration form & temperature checking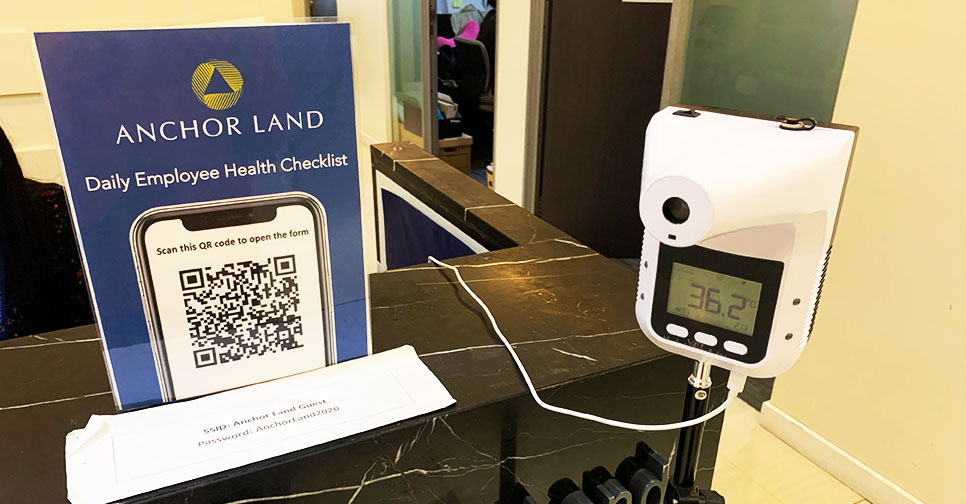 Filling out the health declaration form daily is mandatory, as this serves to monitor employees with COVID-19 symptoms, and aids in contact tracing, should it be necessary. Alongside this is the daily temperature checking, which sends an alarm when someone has a temperature of 37.5C or above. This practice prevents people with fever from coming in the office and protects from possible virus spread.
Face masks, face shields and vitamin C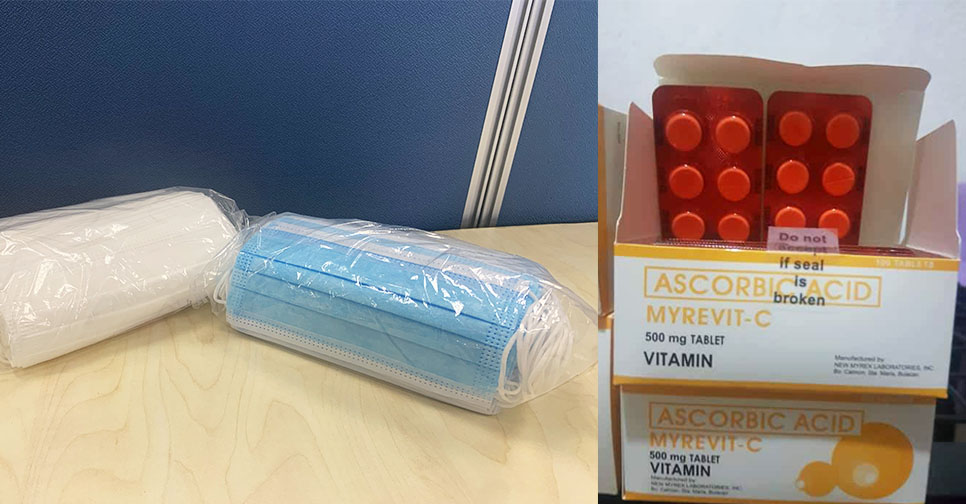 Our company has been distributing face masks and vitamin C to help us fight the virus. Wearing of face masks and face shields serves as a protective barrier against the virus. It may be uncomfortable at times, but it's better to be safe than sorry. Taking supplements, such as vitamin C, is a great immune booster for a healthier and stronger body.
Social distancing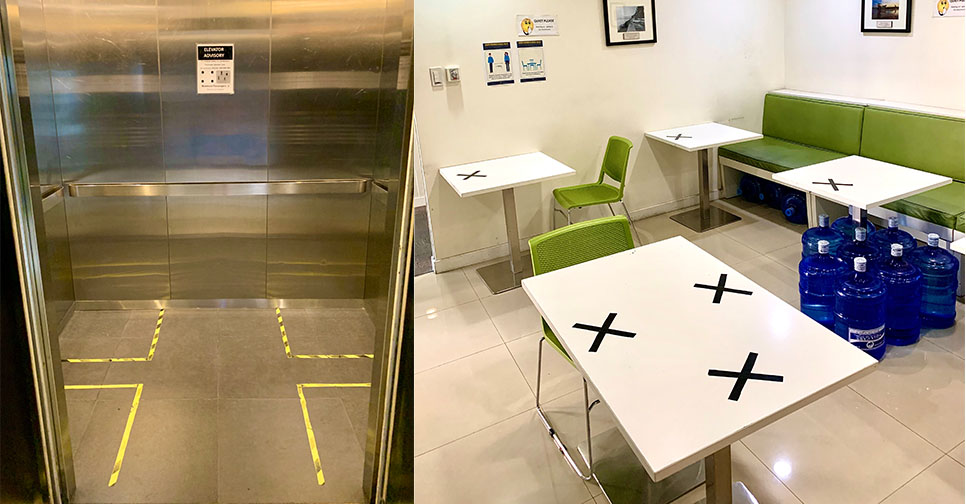 Keeping our physical distance from each other doesn't mean it should also be by heart. Social distancing is a way of showing your colleagues that you care for them by keeping your distance, until we're all 100% cleared from the virus. Stay at least six (6) feet (or about two arms' lengths) away from each other, whether you're inside or outside the office. Avoid loitering in common areas, such as the lobby, and follow the proper queuing in getting on the elevator with a maximum of four (4) passengers.
Shuttle service
Commuting during the pandemic is quite risky, since you will encounter different people where social distancing may at times be compromised, and sanitation of seats and common surfaces are not strictly observed by others. The company-provided shuttle service minimizes these risks. It also helps save our time, money and energy, as compared to commuting on our own.
Dropbox system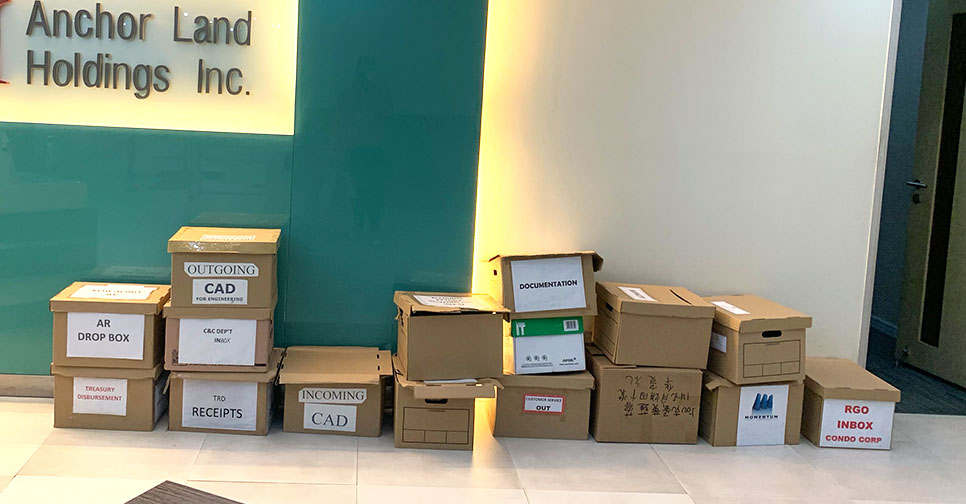 Contactless transaction has been the new norm in the office. Instead of routing documents from person-to-person, we now use a drop box. Each department has their own box in the reception area for receiving and releasing documents, allowing for a seamless and efficient flow of documents- while minimizing inter-department exposure.
Going digital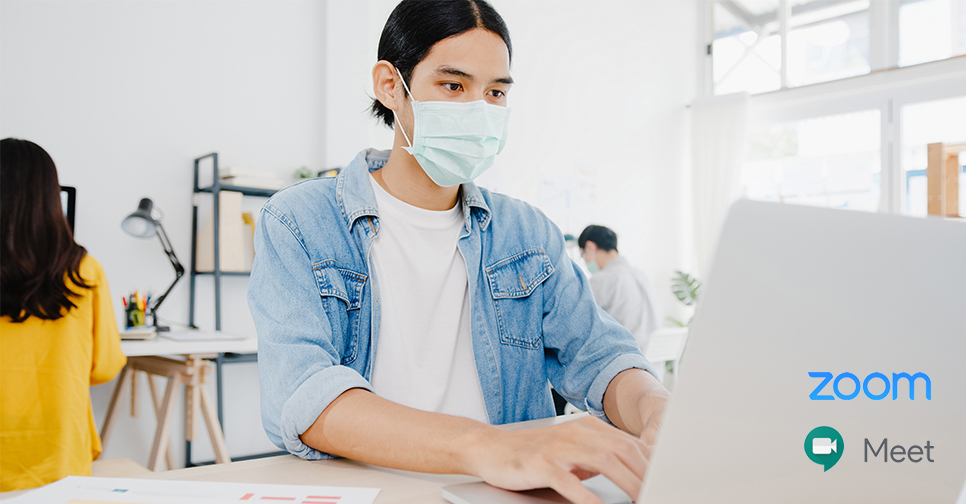 As we strive to maintain social distancing, we're gradually shifting our operations online. Meetings are done through video calls and phone calls, events are done through webinars, requests for PO processing and submission of other forms are now done through email, and Treasury releasing of checks/billing payment to our external partners is now contactless. 
Going digital is not just efficient and safe, it also helps you keep track of your work, lessens unnecessary paperwork, and saves trees.
We thank the Management for these measures. Now, it's time for each one of us to play our part in keeping our office environment safe and healthy.