Sowing the seeds of a brighter future: Anchor Land supports enrichment program at La Mesa Watershed through ABS-CBN's Bantay Kalikasan Program
Our present actions inevitably shape the future of next generations. 
Recognizing today's impact on tomorrow has driven listed property developer Anchor Land in a relentless pursuit of progress anchored on environmental stewardship. 
It has always been the company's mission to maintain a balance between its modern developments and the environment to ensure a better future for the next generation.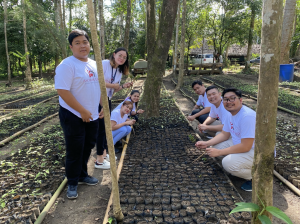 True to its commitment to environmental sustainability, Anchor Land, through its signature corporate social responsibility program Care to Change, partnered with ABS-CBN Foundation in its continued preservation and enrichment of La Mesa Watershed, the major source of raw water for 12 million residents in the National Capital Region. 
In addition to being the only major watershed in the region, the forest cover of La Mesa Watershed absorbs about 3-5% of carbon emissions of the metropolis, thereby earning the tag "green lung of Metro Manila". 
Anchor Land's support is aimed at boosting the continued efforts of the foundation to increase the population density of tree species at La Mesa Watershed through enrichment planting. 
"In the first 15 years since 1999, we have reforested 1,552 hectares of the watershed. With continuous support of donors like Anchor Land, we are nearing completion of the second layer. We will add more layers until we reach the ideal point where sunlight can no longer penetrate the ground," said Sarah Alcayde-Agcaoili, operations manager of ABS-CBN Foundation, Inc.'s Save La Mesa Watershed Project. 
Anchor Land kicked off this year's partnership with the planting of 500 indigenous species of Lago tree. During the activity, the participants also learned about seed germination and the importance of proper care and preparation of seedlings prior to the planting season. 
"As a mindful organization concerned with the needs of people, Anchor Land has been committed to creating a meaningful and long-term impact on the next generation. We are honored to partner with ABS-CBN Foundation in our pursuit of sustainability and environmental protection," said Anchor Land President Elizabeth Ventura. 
"We hope that with each tree planted, we can secure a greener and brighter future for all," Ventura added.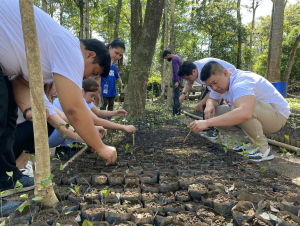 With several properties in Metro Manila, the luxury real estate developer hopes to find even more ways to support and improve the living condition in communities they locate in. Following the first phase of the partnership for Bantay Kalikasan, the team will return to La Mesa Watershed to join the tree planting activity during the tree planting season between June and September.