Fun Activities in Okada Manila That You Shouldn't Miss
Fun Activities in Okada Manila That You Shouldn't Miss
Okada Manila is one of the leading integrated entertainment resorts in the Philippines, located in the heart of Manila's entertainment district. It offers a luxurious ambiance that blends with the vibrant culture of Manila, making it an ideal destination for leisure and pleasure.
The resort also features a wide range of exciting amenities that will surely appeal to everyone. Here are some of the fun activities in Okada Manila that you can enjoy:
Luxurious Staycation
If you're looking to unwind after a long work week, Okada Manila is the best choice you have. The integrated resort offers luxurious suites where you can have a nice staycation alone or with friends and family.
Each of the suites in Okada Manila has been elegantly decorated to give you a comfortable and cozy ambiance. You can also enjoy modern amenities like a bathtub, high-speed Wi-Fi access, and DigiValet service, which will surely give you a taste of the luxurious Okada lifestyle.

Well-Deserved Me Time
Sometimes, a staycation is not enough as a reward for your hard work. So, if you want to take it up a notch, you can always treat yourself to a well-deserved makeover.
Okada Manila features a world-class spa where you can indulge yourself in a variety of treatments. From massages to facials, you can select the treatment that best suits your needs. The spa also offers several packages that you can choose from, to make sure that you get the most out of your me-time.
Additionally, the integrated resort has a salon and barber shop where you can get a new hairdo. If you're looking to update your style, the salon staff can assist you with that.
Gourmet Dining
Okada Manila also caters to food enthusiasts with refined palates. If want to treat yourself to gourmet food, you can visit any of the resort's restaurants and bars that offer exquisite cuisine.
The integrated resort has many restaurants serving international and local dishes. And if you're looking for a spot where you can enjoy a few drinks with friends, you can also check out the bars in Okada Manila.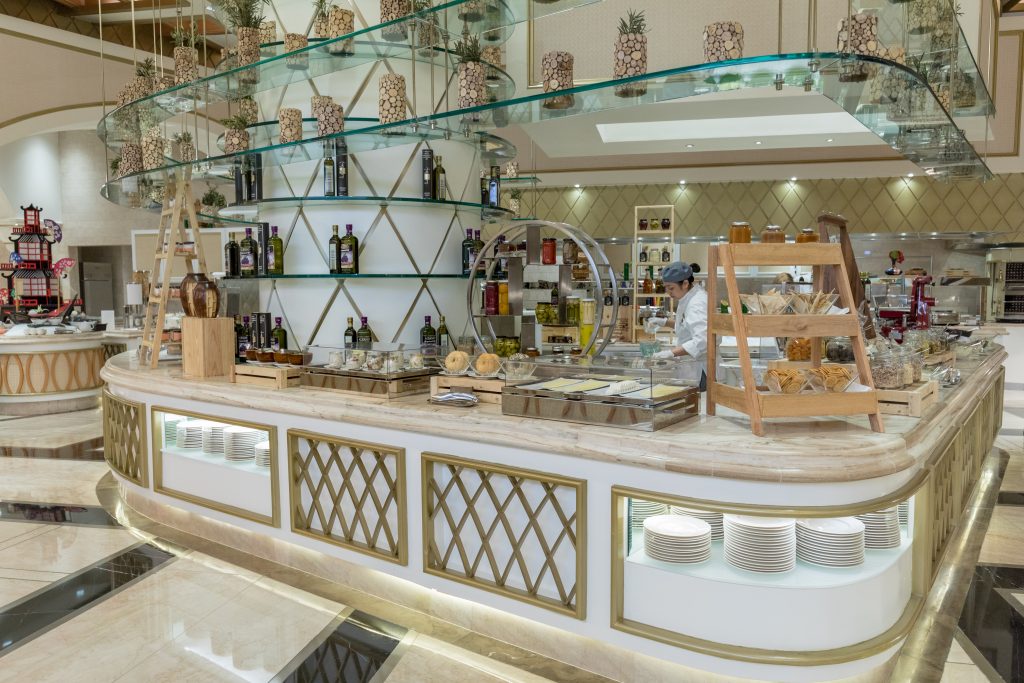 Shopping Spree
Whether you're looking for a souvenir to bring home or just want to shop 'til you drop, the integrated resort has several retail shops where you can find fashionable items. Okada Manila features world-famous stores and brands where you can get the latest fashion trends. So, if you're looking for a place to go on a shopping spree, head to Okada Manila and enjoy a luxurious shopping experience.
The integrated resort also has specialty stores where you can find unique items that are not available elsewhere. These stores also offer high-end products that you can take home as a souvenir or give away as a gift.
Entertaining Shows
Okada Manila is best known for its expansive fountain, which is an iconic part of the integrated resort. The fountain, along with its breathtaking light shows, will surely capture your imagination and leave you in awe.
Aside from the fountain, Okada Manila also offers entertaining performances that will surely keep you entertained. From live music to international acts, there is always something that you can enjoy when you visit the integrated resort.
Exciting Nightlife
If you are looking for a place to party, Cove Manila in Okada Manila has got you covered. It serves as a beach club by day and then turns into a night club once the sun sets.
The club features several bars, lounges, and live DJ performances. You can also enjoy a variety of international cuisines and unique drinks while having fun with your friends.
Have Fun at Okada Manila

Okada Manila is the perfect destination for those who want to indulge in a luxurious getaway. Whether you're looking for a place to relax or a spot to have fun, you can definitely find it in the integrated resort.
If you want to enjoy these fun activities in Okada Manila without traveling far, you should consider investing in a condo like Copeton Baysuites. This way, you can conveniently enjoy the integrated resort's offerings anytime you want without going too far.