Hidden gems in the Bay City | Anchor Land
Hidden gems in the Bay City
Home to the country's most fascinating destinations and brightest locations, the fast-emerging Bay City district dazzles and delights with a vibrant vibe that can be felt throughout – it's an exhilarating feeling, a dynamic energy. This is the Bay City Vibe. 
The most interesting things are sometimes hidden and unknown to many. 
In the vibrant district of Bay City, there is no shortage of places to go and activities to do. But aside from the crowd-drawing destinations, the other element that adds allure to the fast-emerging district are the hidden gems waiting to be discovered and experienced – or those you didn't know were there. 
Within and in between the entertainment complexes and business parks are the following establishments that make living in the Bay City more exciting:
East Ocean Palace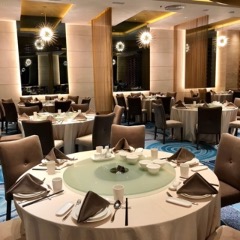 East Ocean Palace serves authentic Cantonese cuisine made using the freshest ingredients.
The district excites the palate with its wide array of gastronomic delights served by beloved restaurants which have raked in a loyal following since their opening.
One of Bay City's best-kept secrets is East Ocean Palace, the biggest luxury seafood restaurant in the country. Strategically located at the heart of Aseana Business Park in Parañaque City, East Ocean Palace serves authentic Cantonese cuisine using only the freshest ingredients; diners, in fact, can pick their fish and shellfish from the live seafood section. 
The upscale restaurant also delights with its dim sum, soup, roasts, and other sumptuous dishes served by its well-trained staff in the expansive dining area with elegant furnishings or in one of the posh private function rooms. 
Great food, excellent service, splendid ambience – these are the reasons that make patrons, including those living in condominiums near Aseana Business Park as well as diners residing outside the district, come back for more. 
Upside Down Museum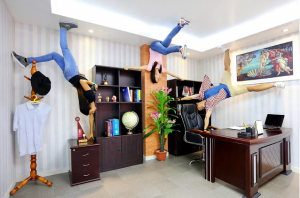 The world is literally upside down in this novelty museum. 
See the world from a different perspective in this novelty museum in CCP Complex, Pasay City. 
Founded by a Korean couple in 2017, the Upside Down Museum showcases giant exhibits that feature a variety of optical illusions where guests, with the assistance of museum marshals, can take their most creative and bizarre photographs. With a simple photo rotation, the displays will make guests look as if they are standing on the ceiling or floating in the room.
Popular attractions include the 90-degree mirror mansion, the upside-down highway, and the fully furnished upside-down house. The Upside Down Museum is perfect for families and friends looking for a fun and imaginative way to bond in the Bay City.
Lakbay Museo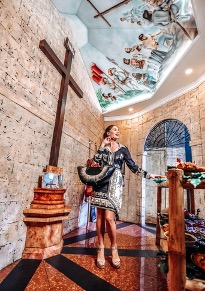 A replica of Magellan's Cross at Lakbay Museo.
A museum designed to take guests on a Philippine tour "in just 1,000 steps", Lakbay Museo at S Maison is a unique showcase of Filipino culture within the Mall of Asia Complex. 
Unlike traditional museums, Lakbay Museo offers an interactive way to learn more about our roots and rich culture. Guests can pose with colorful displays featuring 11 of the best Philippine destinations, see how Maria Clara's Instagram feed would have looked like during the Spanish colonization, feel the different weaves and textures of our local textiles, and taste various Filipino dishes and delicacies without leaving the Bay City. 
The interactive mall-based museum is open to everyone, pets included.  
Oren Thai Touch Massage and Spa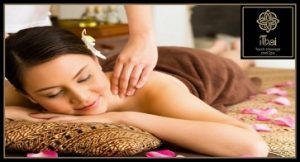 Oren Thai Touch offers traditional Thai massage and other therapeutic services.
In addition to award-winning luxury spas peppered across the Bay City, the entertainment and business district is also home to a top-rated spa offering high quality traditional Thai massage services. 
On the second floor of Aseana Square, a unique oasis of calm welcomes guests to Oren Thai Touch Massage and Spa. It offers a selection of therapeutic and relaxing treatments using premium products from Thailand, Israel, Persia, and the Philippines. Services are performed by highly qualified therapists in a nurturing and relaxing space designed with Thai décor and furnishings. 
For utmost privacy and relaxation, the establishment has VIP rooms in addition to its common areas. 
Casa Ibarra
Event guests enter in class through Casa Ibarra's port-cochere.
Amid the contemporary landscape of the Bay City district, Casa Ibarra's Old Manila-themed architecture stands out. The premium events venue in the Mall of Asia Complex is Ibarra's Party Venues and Catering's fifth and largest to date. 
Casa Ibarra brings to fore Ibarra's expertise in memorable and elegant parties, and combines it with distinctly Filipino elements and indigenous materials such as capiz shells, raffia fabric, and T'nalak to create its identity. Guests to events held in Casa Ibarra enter through a porte-cochere, and once inside will be welcomed by Olivia d'Aboville's "Homage to Monet", a specially commissioned artwork made of 365 meters of Philippine silk.
The two-level events venue has four function rooms that can accommodate a total of 710 guests, lighted onyx pillars, and a grand stairway. On top of these, guests can of course savor Ibarra's wide selection of Spanish, Western, Asian, Mediterranean, and Filipino cuisines. 
Amid the known and unknown treasures in the district, perhaps the brightest gem rising soon in the Bay City is the 16-storey luxury residential condominium Copeton Baysuites. 
Designed after the most luxurious gem in the world, the diamond, Copeton Baysuites' premium finishes and overall design match the district's energetic lifestyle while redefining luxury living in sync with the Bay City vibes. 
With global design and architecture firm dwp (design worldwide partnership) at the helm in designing its interiors and amenities, Copeton Baysuites provides residents with a premium lifestyle and hotel-like experience all year round. 
Its luxury facilities, premium living spaces, and smart technology features integrated for residents' comfort and convenience add to the property's international appeal befitting the lifestyle of discerning homebuyers here and abroad who are looking for condos for sale near Aseana, Ayala Malls Manila Bay, and Solaire. 
Uncover the gem that is Copeton Baysuites. Visit https://anchorland.com.ph/project/copeton-baysuites/.