In Full Swing: 24-hour Construction Activities in 12 Anchor Land Projects
Anchor Land has 12 ongoing projects, seven (7) of which are residential. The rest include an office, hotel, logistics facilities, co-living and a mixed-use development.
"We are keeping our construction activities going. We are confident about the economy and we look forward to expanding our pipeline of projects this year," said Anchor Land Chief Executive Officer Steve Li.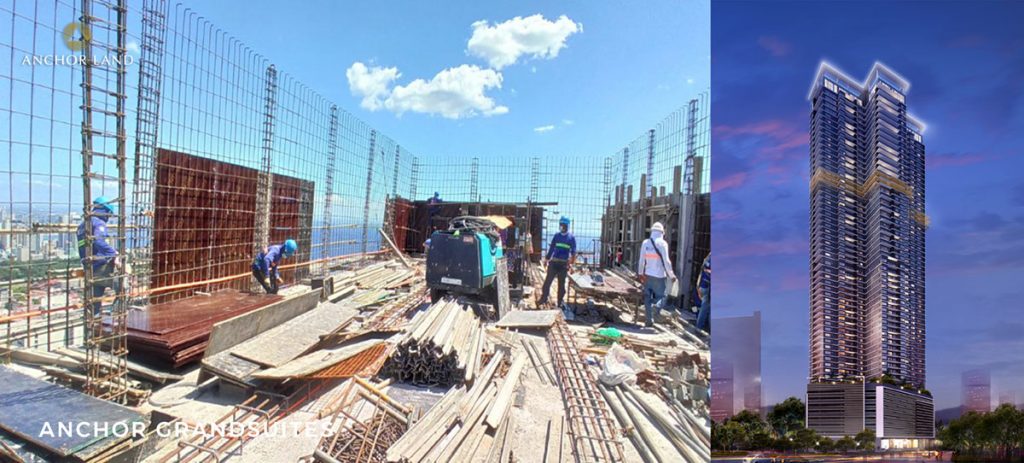 In Binondo, Anchor Land's stronghold in Metro Manila, construction is in full swing for five (5) projects. Anchor Land recently topped off the 63-storey luxury tower Anchor Grandsuites that stands as the tallest building in all Chinatowns of the world to date. Last April, bulk excavation works have been completed for 8 Alonzo Parksuites. These are now ongoing for Cornell Parksuites. In One Legacy Grandsuites, Anchor Land's latest luxury skyscraper in Manila, installation of perimeter sheet piles has been completed. Meanwhile, for Juan Luna Logistics, concreting works and MEPFS embedment have been completed up to the 27th floor.
In Roxas Boulevard, the team in Admiral Hotel is now setting up furniture and landscaping on the ground floor, and conducting quality inspection at the higher floors. In Admiral Grandsuites, MEFPS tests are ongoing as finishing of the lobbies is being completed.
In the Bay City, the Centrium opened its doors to the public in the first quarter of the year. In Copeton Baysuites, construction works are ongoing simultaneously for the North, West and South towers. In Central Link, a public-private partnership (PPP) project with the Parañaque city government, the team is working on the bored piling in Towers 1 and 3 and interior sheet piling in Tower 2.

In the co-living project Cosmo Suites in Pasay City, construction is now on the 10th floor for both towers.
In Davao City, concrete pouring is ongoing for 202 Peaklane.
"Our non-stop construction activities are a testament of our commitment to honoring our promise to our clients who remain at the core of everything we do," Li added.
Anchor Land is a full-line real estate developer that has changed the landscapes of Manila Chinatown, Roxas Boulevard and the Bay City. Its tradition of excellence spans high-rise luxury condominiums, premium-grade offices, word-class leisure establishments and cutting-edge logistics centers. Now, Anchor Land looks forward to the future with unwavering commitment and expertise honed over 15 years to continue celebrating success stories in real estate development for generations to come.